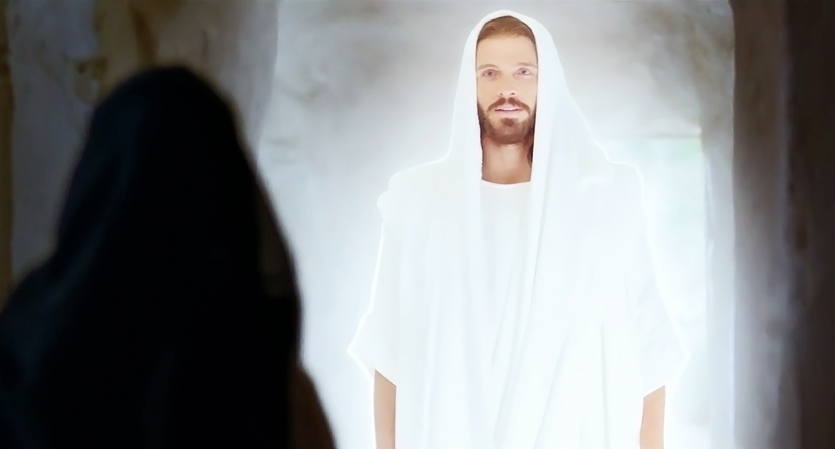 Our Lord and Savior wants to be known. He wants to be sought after…and He wants to be found! The scriptures and other writings contain many passages that speak of those who have been in His glorious presence and seen Him while they lived in the flesh. They have each left their witness with us that we might believe, and that we might come to the faith in Him that they possessed.
Believing is seeing!
For this series of posts, I want to share many of these written eyewitness accounts. There are certainly so many which are not written. And even all those that are written will not be cited here. But the large amount of these magnificent accounts puts all the world under obligation to consider and investigate His divine reality. Every soul may choose to not believe in Him, if they wish, but because of the many testimonies which have been given of Him, all men who have access to them are left without excuse.
ADAM and His Righteous DESCENDANTS
"Three years previous to the death of Adam, he called Seth, Enos, Cainan, Mahalaleel, Jared, Enoch, and Methuselah…with the residue of his posterity who were righteous, into the valley of Adam-ondi-Ahman, and there….the Lord appeared unto them….And the Lord administered comfort unto Adam" (D&C 107: 53-55).
ENOCH
"Enoch….saw the Lord, and he walked with him, and was before his face continually" (D&C 107: 48-49; Moses 7: 4).
ABRAHAM
"I, Abraham…prayed unto the Lord, and the Lord appeared unto me, and….after the Lord had withdrawn from speaking to me, and withdrawn his face from me, I said in my heart: Thy servant has sought thee earnestly; now I have found thee" (Abraham 2: 6-12).
JACOB
After Jacob wrestled with the Lord for a blessing, he "called the name of the place [the face of God], "for" said he, "I have seen God face to face, and my life is preserved" (Genesis 32: 30).
MOSES
"Then went up Moses, and Aaron, Nadab, and Abihu, and seventy of the elders of Israel: And they saw the God of Israel: and there was under his feet as it were a paved work of a sapphire stone, and as it were the body of heaven in his clearness" (Exodus 24: 9-10).
"And the Lord spake unto Moses face to face, as a man speaketh unto his friend" (Exodus 33: 11).
SOLOMON
"…the Lord appeared to Solomon in a dream by night: and…said, Ask what I shall give thee" (1 Kings 3: 5).
Later, "…the Lord appeared to Solomon the second time" saying: "I have heard thy prayer and thy supplication" (1 Kings 9: 2-5).
ISAIAH
"I saw…the Lord sitting upon a throne, high and lifted up…Then said I…mine eyes have seen the King, the Lord of Hosts" (2 Nephi 16: 1-7).
DANIEL
"I saw in the night visions, and behold, one like the Son of Man came with the clouds of heaven" (Daniel 7: 13).
"…I lifted up mine eyes, and looked, and [beheld] a certain man clothed in linen…and his face [was] as the appearance of lightning, and his eyes as lamps of fire…and the voice of his words [was] like the voice of a multitude….and there remained no strength in me" (Daniel 10: 5-8).
AMOS
"I saw the Lord standing upon the altar" (Amos 9: 1).
The BROTHER of JARED
"Jesus showed himself unto [the brother of Jared] in the spirit, even after the manner and in the likeness of the same body even as he showed himself unto the Nephites. And he ministered unto him even as he ministered unto the Nephites; and all this, that this man might know that he was God" (Ether 3: 17-18).
EMER
"…and [Emer] saw peace in the land; yea, and he even saw the Son of Righteousness, and did rejoice and glory in his day" (Ether 9: 22).
NEPHI and JACOB
"…my soul delighteth in [the] words [of Isaiah]….for he verily saw my Redeemer, even as I have seen him. And my brother, Jacob, also has seen him as I have seen him" (2 Nephi 11: 2-3).
LAMONI
"For as sure as thou livest, behold, I have seen my Redeemer; and he shall come forth, and be born of a woman, and he shall redeem all mankind who believe on his name" (Alma 19: 13).
NEPHITES and LAMANITES
The Nephite and Lamanite multitude "saw a Man descending out of heaven; and he was clothed in a white robe; and he came down and stood in the midst of them; and the eyes of the whole multitude were turned upon him….And…he stretched forth his hand…saying: Behold, I am Jesus Christ, whom the prophets testified shall come into the world" (3 Nephi 11: 8-11, 14-15).
And Jesus "did teach the people, for the space of three days" (3 Nephi 26: 13).
And "after having healed all their sick, and their lame, and opened the eyes of their blind and unstopped the ears of the deaf, and even had done all manner of cures among them, and raised a man from the dead, and had shown forth his power unto them" He ascended unto His Father (3 Nephi 26: 15).
"…and after that he did show himself unto them oft, and did break bread oft, and bless it, and give it unto them" (3 Nephi 26: 13).
MORONI
"I have seen Jesus, and…he hath talked with me face to face, and…he told me in plain humility, even as a man telleth another in mine own language, concerning these things….And now, I would commend you to seek this Jesus" (Ether 12: 39, 41).
HIS APOSTLES and DISCIPLES
On resurrection morning, Jesus showed Himself to Mary Magdalene at the tomb and to other women who had been with Mary, who had been told by angels that He had risen from the dead. These women, "as they went to tell his disciples, behold, Jesus met them, saying, All hail. And they came and held him by the feet, and worshipped him. Then said Jesus unto them, Be not afraid: go tell my brethren that they go into Galilee, and there shall they see me" (Matthew 28: 9-10).
After that, He showed Himself unto Simon Peter, and to two others as they walked on the road to Emmaus (Luke 24: 13-34).
"Afterward he appeared unto the eleven as they sat at meat, and upbraided them [for] their unbelief and hardness of heart, because they believed not them which had seen him after he was risen" (Mark 16: 14).
"After that, he was seen of above five hundred brethren at once; of whom the greater part remain unto this present, but some are fallen asleep. After that, he was seen of James; then of all the apostles" (1 Corinthians 15: 6-7).
The APOSTLE PAUL
Then says the apostle Paul, "And last of all he was seen of me also" (1 Corinthians 15: 8-9).
(to be continued…)