(Continued from last week…)
Practice makes progress; Jesus makes perfect.
So far in this series I've stated quite unequivocally that the Father and the Son are our source of life, strength, capacity, and advancement, and that we should all be God-reliant in our quest for perfection, for this is not something we are able to bring about by ourselves.
Now, to underscore this point even more, let's look at Jesus, and see how the greatest Being that ever lived on this planet viewed His own capacity to do and bring about good, as well as the source of His ultimate perfection. He is, after all, our Exemplar. So, let's follow His lead.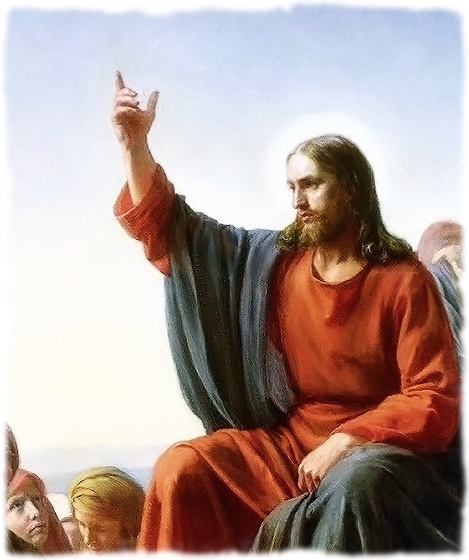 Jesus truly believed and declared that God had made Him who He was, had taught Him what He knew, and had given Him the power He possessed to do all that He did. As we read the four gospels in the New Testament, as well as those chapters in the Book of Mormon documenting Jesus' visit to the Nephites (3 Nephi 11-28), we see how Jesus declares His dependence and reliance upon God, His Father, over and over again. And if Jesus—the greatest of all—saw life this way, then what better argument for us to do the same! Every time we see Jesus doing this, we should ask ourselves, Is this our thinking? Do we recognize enough our dependence on God for everything we have and are? King Benjamin spoke emphatically about it, but do we? Or, have we convinced ourselves that we can do it, that it is up to us, that we work the works and qualify ourselves for the reward? What will finally lead us to see it the way Paul described it when he said: "For it is God who worketh in you both to will and to do" (Philippians 2: 13)? I'm telling you, this was Jesus' view of His own self. Listen to His words:
"My Father worketh hitherto, and I work….The Son can do nothing of himself, but what he seeth the Father do" (John 5: 17-19).
According to Jesus, the Father taught Him how to do everything He did: turning water into wine, healing the sick, walking upon the sea, raising the dead, etc. The Son learned how to do His many miracles by His Father's instruction. Jesus then said to the Jews:
"For the Father loveth the Son, and showeth him all things that himself doeth; and he [God] will show him [Jesus] greater works than these, that ye may marvel" (John 5: 20).
The Father's teaching was going to be utilized more by the Son resulting in the Son doing greater things than He had done thus far, insomuch that the Jews would marvel. The Father taught the Son to resurrect. He gave the Son the charge to judge the dead. All given by the Father!
"For as the Father raiseth up the dead, and quickenth them, even so the Son quickeneth whom he will. For the Father judgeth no man, but hath committed all judgment unto the Son….For as the Father hath life in himself; so hath he given to the Son to have life in himself; And hath given him authority to execute judgment also" (John 5: 21-22, 26-27).
"I can of mine own self do nothing: as I hear, I judge: and my judgment is just; because I seek not mine own will, but the will of the Father who hath sent me" (John 5: 30).
Jesus was given wisdom and guidance from His Father in all things. This is what Isaiah said about Jesus and His judgment:
"And the Spirit of the Lord shall rest upon him, the spirit of wisdom and understanding, the spirit of counsel and might, the spirit of knowledge…And shall make him of quick understanding…he shall not judge after the sight of his eyes, neither reprove after the hearing of his ears. But with righteousness shall he judge" (2 Nephi 21: 2-4).
The Father put His Spirit upon the Son, and through that Spirit the Son became who He was.
Isaiah also prophesied of Jesus' capacity and responsibility to speak for God:
"The Lord God hath given me the tongue of the learned, that I should know how to speak a word in season unto thee, O house of Israel" (2 Nephi 7: 4).
And Jesus said of Himself:
"The word which ye hear is not mine, but the Father's who sent me" (John 14: 24).
Jesus acknowledged that God gave Him the tongue of the learned, so that He could speak the right word at the right time. Jesus acknowledged repetitively that His Father was the source of His knowledge, wisdom, capacity, and strength in all things. What about you and me? Are we doing the same?
Now, Jesus was not saying all these things merely to show His humility, or to kindly give honor to His Father (though certainly both things are accomplished). He was speaking the truth—the way things are!
John the Baptist said: "A man can receive nothing, except it be given him from heaven" (John 3: 27). And then he said this of Christ: "The Father loveth the Son, and hath given all things into his hand" (John 3: 35).
Jesus was God-reliant! He obtained His power from the Father.
"And he hath power given unto him from the Father to redeem [his people] from their sins because of repentance" (Helaman 5: 11). Jesus said, "All power is given unto me in heaven and in earth" (Matthew 28: 18). He knew and acknowledged where His power came from.
The Father gave Jesus of His fulness, and Jesus received it grace for grace (D&C 93: 3-4, 12-14). If this is how Jesus perceived His own growth, then should not we?
Finally, our Savior did not look upon God the Father as His assistant, or helper, when He needed something. No. God was everything to Jesus! He was the source of all that was in Him. And, what's more, Jesus delighted in His Father! Look at these beautiful words from George MacDonald:
"As Jesus went out of a house [see Mark 10: 10-17], [a] young man came running to him, and kneeling down in the way, addressed him as 'Good Master.'
"The words with which the Lord interrupts [the young man's] address reveal the whole attitude of the Lord's being. At that moment, at [each and every] moment….[Jesus'] whole thought, his whole delight, was in the thought, in the will, in the being of his Father. The joy of the Lord's life, that which made it life to him, was the Father; of him he was always thinking, to him he was always turning….That was his treasure-house, the jewel of his mind….It was not for himself he came [into] the world—not to establish his own power over the doings [of men, nor] his own influence over the hearts of men: he came that they might know the Father who was his joy, his life. The sons of men were his Father's children like himself: that the Father should have them all in his bosom was the one thought of [Jesus'] heart: that should be his doing for his Father, cost him what it might!…He was not interested in himself, but in his Father and his Father's children. He did not care to hear himself called good. It was not of consequence to him….'You call me good! You should know my Father!'
"…When the word good enters the ears of the Son, his heart lifts it at once to his Father, the Father of all [humankind]. [Jesus'] words contain no denial of goodness in himself: in his grand self-regard he was not the [originator] of his goodness, neither did he care for his own goodness, except to be good: it was to him a matter of course. But for his Father's goodness, he would spend life, suffering, labor, [and] death, to make that known! [God's] other children must learn to give him his due, and love him as did [His Beloved] Son! The Father was all in all to the Son, and the Son no more thought of his own goodness than an honest man thinks of his honesty….'Why callest thou me good? None is good save one, even God'" (Unspoken Sermons, Series I, II, III, [Whitehorn,  California: Johannesen], pp. 171-173, emphasis added).
(to be continued…)