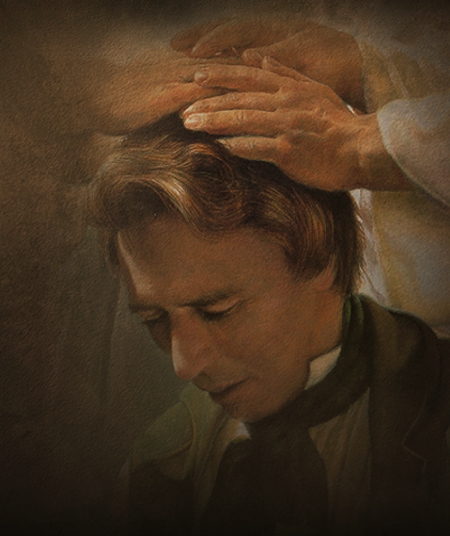 Upon meeting the Prophet Joseph for the first time, Amasa Lyman says: "although there was nothing strange or different from other men in his personal appearance, yet when he grasped my hand in that cordial way…my strength seemed to be gone, so that it required an effort…to stand on my feet; but in all this there was no fear, [for] the…voice of the Spirit whispered…that he was the man of God" (Millennial Star, vol. xxvii, p. 473).
Parley P. Pratt remembers: "As we journeyed day after day, and generally lodged together, [Joseph and I] had much sweet communion concerning the things of God…and I received many…instructions which I shall never forget" (Autobiography of Parley P. Pratt, (Salt Lake City: Deseret Book Co., 1970), p. 110).
Brigham Young, speaking of his introduction to Joseph Smith said: "We…repaired to the woods, where we found the Prophet…chopping and hauling wood. Here my joy was full at the privilege of shaking the hand of the Prophet of God, and receiving the sure testimony, by the spirit…that he was all that any man could believe him to be as a true prophet" (Millennial Star, vol. xxv, p. 439).
Wherever the revelations given to Joseph were preached among men, they had their effect. And thus "mightily grew the word of God…the seed sown by…the Prophet and Seer of the nineteenth century" (Autobiography of Parley P. Pratt, (Salt Lake City: Deseret Book Co., 1970), p. 110).
"Thus saith the Lord God…A choice seer will I raise up…and unto him will I give a commandment that he shall do a work for…his brethren….And out of weakness shall he be made strong….and his name shall be called Joseph, and it shall be after the name of his father; and…the thing which [I] the Lord shall bring forth by his hand shall bring my people unto salvation" (JST Genesis 50: 27-33; 2 Nephi 3: 7-15).