For some years now, I've felt an increasing concern about a particular view we seem to focus on in much of the Church about the ordinance of the sacrament… Just over a year and a half ago, when I started the blog series, "Practice Makes Progress, Jesus Makes Perfect", I intended on discussing this very topic. But after a number of preparatory entries, the series got put on hold and I wasn't able to share my thoughts with you. Well, today, I am going to share them. It is time.
THE SACRAMENT: RENEWING OUR BAPTISMAL COVENANTS?
As I have asked the question or heard it asked in a classroom setting of either adults or youth: "What is the purpose of the sacrament?", the answer that always comes, more than any other, and usually before any other, is: "To renew our baptismal covenants." Now, renewing our baptismal covenants is certainly a wonderful concept. And, many among us, studying the Book of Mormon and Doctrine & Covenants may have noticed some similarities between the requirements of worthiness for baptism, and what we give witness to in the sacramental prayers. However,…and please don't misunderstand me…I am not saying that this thinking is inappropriate, or a bad idea, or incorrect doctrine; when we take the sacrament, we can renew our baptismal covenants, and even all our covenants for that matter. Still, is that the Lord's declared purpose for the sacrament? I have found myself concerned that the catchphrase "renewing our covenants" might not only become our first response, but soon our only response to the question: "What is the purpose of the sacrament?" And yet, if we look in our Holy Scriptures, when Jesus or His prophets speak of the express purpose of the sacrament, the phrase "renewing our covenants" is never articulated. Not even once.
Let's look at the prayer:
"O God, the Eternal Father, we ask thee in the name of thy Son, Jesus Christ, to bless and sanctify this bread to the souls of all those who partake of it, that they may eat in remembrance of [their baptismal covenants]…"
No…rather, it's:
In remembrance of "the body of Thy Son" or "the blood of Thy Son." The prayers themselves tell us that it's about Jesus…His glorious name, our remembering Him, and our willingness to do what He commands. And each prayer ends with this assurance: that we may always have Jesus' Spirit to be with us.
Again, it's about Jesus!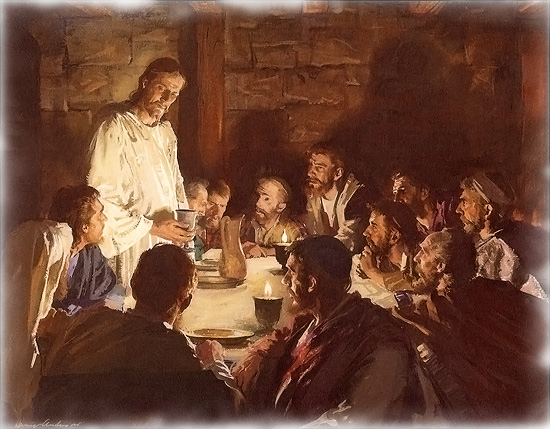 (JST) MATTHEW 26: 26-28; MARK 14: 22-24; LUKE 22: 19-20
And as they were eating, Jesus took bread, and blessed it, and brake it, and gave it to the disciples, and said, Take, eat; this is my body which is given for you; this do in remembrance of me.
And he took the cup, and when he had given thanks, he gave it to them, saying:
This cup is my blood of the new testament [covenant], which is shed for many for the remission of sins. And they all drank of it.
To many of the Nephites who remained alive after the destruction on this hemisphere, the risen Christ repeated the ordinance. After administering the bread, Jesus said, "…this shall ye do in remembrance of my body, which I have shown unto you. And it shall be a testimony unto the Father that ye do always remember me. And if ye do always remember me ye shall have my Spirit to be with you. Then He administered the wine and said unto them, "Blessed are ye for this thing which ye have done, for this is fulfilling my commandments, and this doth witness unto the Father that ye are willing to do that which I have commanded you. And this shall ye always do to those who repent and are baptized in my name; and ye shall do it in remembrance of my blood, which I have shed for you, that ye may witness unto the Father that ye do always remember me. And if ye do always remember me ye shall have my Spirit to be with you" (See 3 Nephi 18: 3-11).
Later, we read, "…the Lord truly did teach the people, for the space of three days; and after that he did show himself unto them oft, and did break bread oft, and bless it, and give it unto them" (3 Nephi 26: 13). Jesus wanted the people to remember Him, and He continued to show up and give them the sacrament for that very purpose!
The Apostle Paul, years after our Savior's sacrifice wrote:
"For I have received of the Lord that which also I delivered unto you, That the Lord Jesus the same night in which he was betrayed took bread: And when he had given thanks, he brake it, and said, Take, eat: this is my body, which is broken for you: this do in remembrance of me. After the same manner also he took the cup, when he had supped, saying, This cup is the new testament in my blood: this do ye, as oft as ye drink it, in remembrance of me. For as often as ye eat this bread, and drink this cup, ye do shew the Lord's death till he come" (1 Corinthians 11: 23-26). Notice, Paul said, in taking the sacrament, we show or give witness to the Lord's death. It's first and foremost about the Lord Jesus, not about us.
Other scriptures:
"…when ye partake of the sacrament…do it with an eye single to my glory—remembering unto the Father my body which was laid down for you, and my blood which was shed for the remission of your sins" (D&C 27: 2).
"And they did meet together oft to partake of bread and wine, in remembrance of the Lord Jesus" (Moroni 6: 6).
"It is expedient that the church meet together often to partake of bread and wine in the remembrance of the Lord Jesus" (D&C 20: 75).
"He that eateth this bread eateth of my body to his soul; and he that drinketh of this wine drinketh of my blood to his soul; and his soul shall never hunger nor thirst, but shall be filled" (3 Nephi 20: 8).
"…to administer bread and wine—emblems of the flesh and blood of Christ" (D&C 20: 40).
"…administering the flesh and blood of Christ unto the church" (Moroni 4: 1).
Several years ago, I attended a convert baptism. An adult was giving a talk about baptism, and spoke about the sacrament in the process. Addressing the baptismal candidate, the speaker asked: "And after today, why will you take the sacrament each week?" after a pause of silence, the adult said: "We've talked about this, remember? You will take the sacrament to renew the covenants and promises you make here at your baptism." That was it. No mention of what Christ did for this new convert.
Reflecting on this issue, I have wondered: What is it with us as a people? I know that our efforts are important to the Lord. He has made that abundantly clear. But even when He directs us, by the words of His own mouth, to think a certain way about something, why do we somehow feel the need to bring it back to where we think it should be? Perhaps it starts out: "The sacrament helps us remember Jesus' atonement"…then it moves on to, "But the atonement wouldn't do us any good if we don't measure up and keep Jesus' commandments"… and finally it ends up at, "So the sacrament helps us recommit to keep the commandments or renew our covenants." Pretty soon, Jesus is out of the picture when it comes to our response to: "Why do we take the sacrament?" I wonder: Is there no place in our lives where Jesus can stand alone for a few moments…where He can occupy the entirety of our thinking and rejoicing and delight, for even ten or twenty minutes, without us always bringing ourselves and our performance back to the forefront?
REMEMBER ME
I can almost hear Jesus saying: 'In all your looking back at your covenants, in all your renewing of your promises…in all your remembering what you've done…will you remember me? Remember what I have done…my body, bruised, broken, and torn for you…the abuse, the humiliation, the agony…Remember my blood, which flowed out of me…that your sins might not soil your life…that you might be clean. In all your remembering, remember me.'
"The bread and water represent His sacrifice for sin; Ye Saints, partake and testify Ye do remember him" (Hymn #182, verse 4).
We are supposed to worship at church. The sacrament meeting is designated as our worship service. Well…whom are we worshipping if our first thought regarding the sacrament is our performance—our keeping of our covenants, rather than Jesus' performance? He is the reason we even have covenants and promised blessings in the first place? There would be no covenants, no extended arm of mercy, no power from on high, if it weren't for the exquisite suffering He, alone, bore for each of us. Let us remember Him! Let us worship Him!
Consider the potential power in just saying a prayer of gratitude from time to time—not asking the Lord for ANYTHING, but just giving thanks. Have you tried it and noticed how your heart swells with love and spontaneous worship? Well, in that same vein, there's potential power in the sacrament being only about Jesus, and not about us!
Of course we want to rededicate ourselves. Of course we want to renew our commitments to be faithful followers of the Lord. But wouldn't the desire for that recommitment be more powerful within us if we came to more fully appreciate what our beloved Savior so unselfishly did for us? And how does that appreciation grow? It expands as we humbly and prayerfully ponder what He did. The Spirit causes it to well up within us as we remember Him, and reflect upon His matchless love, the generosity of His offering, and the horrendous agony He willingly endured in our behalf!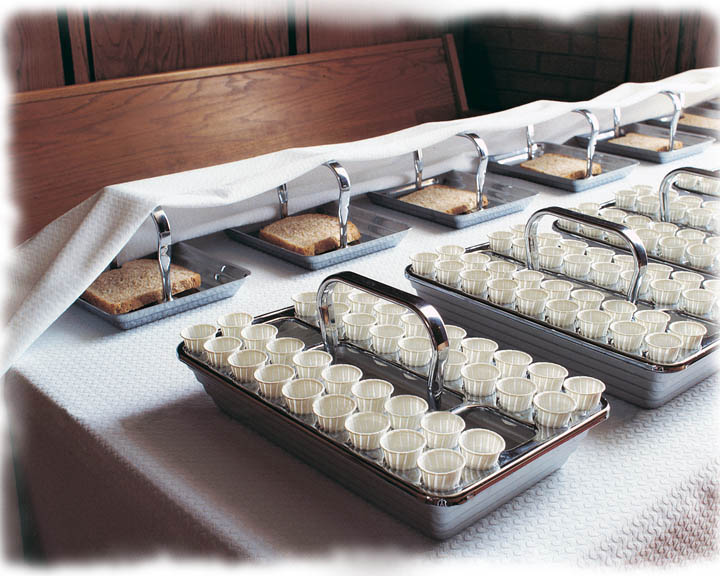 Now, if you really desire to renew your covenants, then by all means, renew them. But realize, you can do that anywhere and at any time. You don't need to be in a sacrament meeting to do that. Recommit yourself to the Lord while you kneel beside your bed, or while you are at the temple, or while you attend someone's baptism, or while you feel the Spirit when reading the scriptures, or when you are being moved by glorious, inspirational music. You don't have to wait to take the sacrament to renew your covenants. The sacrament is an ordinance, but according to the Lord's own word found in our Holy Scriptures, it was not designated as an ordinance for renewing covenants. Rather, He spoke of it as an ordinance instituted for remembering…but not remembering you; instead, it is to remember HIM, and what He has done for us. Those were His instructions, and I am going to do my best to follow what He said.