Joseph and Mary
(by Jeffrey R. Holland)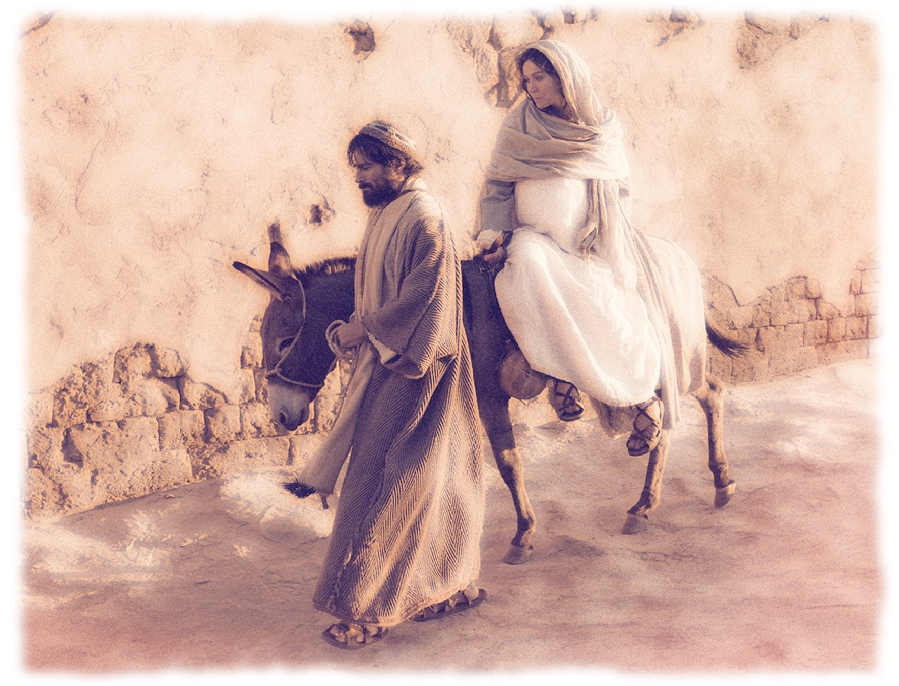 [You and I] need to remember the very plain scene, even the poverty, of a night devoid of tinsel or wrapping or goods of this world. Only when we see that single, sacred, unadorned object of our devotion—the Babe of Bethlehem—will we know why 'tis the season to be jolly' and why the giving of gifts is so appropriate.
As a father I have recently begun to think more often of Joseph, that strong, silent, almost unknown man who must have been more worthy than any other mortal man to be the guiding foster father of the living Son of God. It was Joseph selected from among all men who would teach Jesus to work. It was Joseph who taught him the books of the law. It was Joseph who, in the seclusion of the shop, helped him begin to understand who he was and ultimately what he was to become.
I was a student at BYU just finishing my first year of graduate work when our first child, a son, was born. We were very poor, though not so poor as Joseph and Mary. My wife and I were both going to school, both holding jobs, and in addition worked as head residents in an off-campus apartment complex to help defray our rent. We drove a little Volkswagen which had a half-dead battery because we couldn't afford a new one (Volkswagen or battery).
Nevertheless, when I realized that our own night of nights was coming, I believe I would have done any honorable thing in this world, and mortgaged any future I had, to make sure my wife had the clean sheets, the sterile utensils, the attentive nurses, and the skilled doctors who brought forth our firstborn son. If she or that child needed special care at the Mayo Clinic, I believe I would have ransomed my very life to get it.
I compare those feelings…with what Joseph must have felt as he moved through the streets of a city not his own, with not a friend or kinsman in sight, nor anyone willing to extend a helping hand. In these very last and most painful hours of her 'confinement,' Mary had ridden or walked approximately 100 miles from Nazareth in Galilee to Bethlehem in Judea. Surely Joseph must have wept at her silent courage. Now, alone and unnoticed, they had to descend from human company to a stable, a grotto full of animals, there to bring forth the Son of God.
I wonder what emotions Joseph might have had as he cleared away the dung and debris. I wonder if he felt the sting of tears as he hurriedly tried to find the cleanest straw and hold the animals back. I wonder if he wondered: "Could there be a more unhealthy, a more disease-ridden, a more despicable circumstance in which a child could be born? Is this a place fit for a king? Should the mother of the Son of God be asked to enter the valley of the shadow of death in such a foul and unfamiliar place as this? Is it wrong to wish her some comfort? Is it right He should be born here?"
But I am certain Joseph did not mutter and Mary did not wail….
I've thought of Mary, too, this most favored mortal woman in the history of the world….
I have wondered if [she], something of a child herself, here bearing her first baby, [if she] might have wished her mother, or an aunt, or her sister, or a friend, to be near her through the labor. Surely the birth of such a son as this should command the aid and attention of every midwife in Judea! We all might wish that someone could have held her hand, cooled her brow, and when the ordeal was over, given her rest in crisp, cool linen.
But it was not to be so. With only Joseph's inexperienced assistance, she herself brought forth her first born son, wrapped him in the little clothes she had knowingly brought on her journey, and perhaps laid him on a pillow of hay.
(Maybe Christmas Doesn't Come from a Store", address given to the Religious Instruction faculty at Brigham Young University, December 12, 1976.)